Let me start with a FACT: Within 30 minutes or less, you can setup and start using the EasyPay Mobile Money API to automatically receive payments from your website visitors. This commonly advanced and complicated process has been dramatically simplified by the Newly Updated Easypay Mobile Money WordPress Plugin Version 1.1.6 as at the time of this article.
What is Easy Pay?
EasyPay is a smartphone and web based mobile digital wallet used to make electronic transactions like paying bills, paying for goods and services, etc. Easy pay was founded in 2016 by Payline Holdings Limited, one of Uganda's advanced providers of Online Payment Solutions.
The easypay app, available on android, iOS and web, can be used to send or receive money at lower transaction charges, pay all the utility bills, do event management and e-ticketing, process bulk payments like salary payments, collect money for your causes/startups and allow any internet enabled device/system to process payments securely and instantly through the easypay API.
Why the Easypay Mobile Money WordPress Plugin?
Although EasyPay has developed an Open API which is well documented on their website, truth be told, the biggest percentage of website designers meet a lot of hardship playing with APIs, since they require advanced programming skills.
Therefore, to reach out to the majority of the potential clients who cannot manually code to integrate the API into thier websites, EasyPay developed a Plugin for WordPress, the World's Most Popular website creation software. The plugin is now available in the Offical WordPress repository with the following description:
"Allow mobile money (MTN,Airtel,M-Sente & Africell Money), Visa & Mastercard payments within your woocommerce stores and wordpress. Easypay combines the open mobile money api, open visa api to bring you the latest in Payments. EasyPay Plugin for WooCommerce 3.0+.
Simple steps of setting up EasyPay on your WordPress Site
Get the EasyPay App and register to create your EasyPay account
Install the EasyPay Mobile Money WordPress Plugin
Activate the plugin and link your website to EasyPay by entering your Your EasyPay Number ( Phone Number) and PIN under the plugin options.
Configure and Enable EasyPay Payment Gateways under WooCommerce settings.
You are ready to start testing! After Testing, submit your KYC to remove the default account limits.
1. Get the EasyPay App and register to create your EasyPay account
a). Go to https://www.easypay.co.ug/app/ or download app from here (available for Android and iOS)
Once you have access to the app, the next step is to register through the App in order to create your EasyPay Account, for which you will also set your security PIN.
b). Click register button on bottom left corner of screen.
Your phone number is considered your account number and has to be verified through a SMS or Phone Call during registration.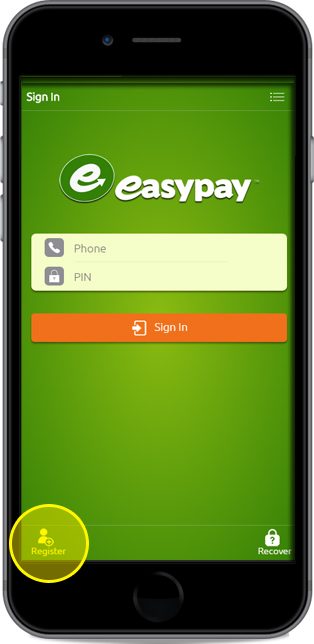 2. Install the EasyPay Mobile Money WordPress Plugin
This plugin requires that you have woocommerce already installed on your WordPress website. Search and install the plugin from the WordPress plugins screen directly.
3. Activate the plugin and link your website to the EasyPay API
After you activate the EasyPay Mobile Money Plugin, you will automatically be redirected to the login screen within the wordpress dashboard, where you will have to simply type in your EasyPay registered phone Number.

Once the system verifies that the number you typed in is a registered number, you will now be prompted to login with your EasyPay PIN to automatically link your Website to your EasyPay Account. NB: If the phone number you want to use is not yet registered with EasyPay a quick alternative of registering from within the plugin can be used, by clicking on the Register tab. But if you have already done step 1 above, just login into the plugin and voila! you are done!
4. Configure and Enable EasyPay Payment Gateways under WooCommerce settings
After logging in successfully, you will be taken to the Woocommerce -> Settings -> Payments section. If not, then go there.
Here you will have to setup/manage/customise the available payment gateways and choose to activate the ones you like.
EasyPay Mobile Money Plugin v1.1.6 has a number of payment gateways:
The Mobile Money gateway supports Airtel Uganda, MTN Uganda, Africell Money and Uganda Telcom M-sente.
The Card payments gateway allows VISA, Mastercard, Discover and American Express card payments.
You also can use Easypay wallet payment which has lowest transaction costs and has the smoothest experience.
5. You are ready to start testing!
You can now add some lost cost trial products for as low as UGX500 to your shop and test the payment gateways . If you prefer prices in Uganda Shillings, set UGX as your default Woocommerce currency and EasyPay will take care of the converstions automatically.
See your EasyPay Statements within the WordPress admin dashboard
For all easypay transations, you will find records under WooCommerce -> EasyPay Account.
You can click on the view link for more details about each transaction. The current account balance is always reflected at the top of the statement.
Withdrawing your Money
You are excited, arent you? All the records within your WordPress dashboard are synconised with the EasyPay app in real time and you can keep monitoring your sales while on the Go.
There are a number of withdraw options available within the EasyPay.
On the home screen click/tap the "Wallet" button to access the wallet options in the right panel as shown in the screenshot to your left.
Tap the Mobile Money option as shown with step 1, then tap "Send to mobile money" as shown with step 2. and follow thru next screen to withdraw the money to your registered Phone Number's Money Money Account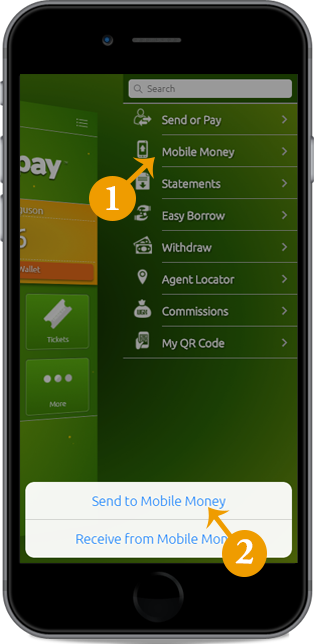 NB: When transferring money from easypay wallet to your mobile money account, there are some payout charges as detailed on thier website.

Finished testing? Submit your KYC to remove account limits.
By default all accounts are limited to transactions worth 100USD/month for both incoming and outgoing transactions. To remove this limitation, you will have to submit your KYC documents details to EasyPay. Know Your Customer (KYC) refers to the process of verifying the identity of your customers, either before or during the time that they start doing business with you.
Companies have to provide the following copies of KYC documentation:
Certificate of registration
Company M&A of association
Company form 7(particulars of directors)
National IDs of directors
Tax registration certificate
Trading licence
Proof of physical address
NB: There is also a provision for individuals to be approved with lesser KYC requirements.
To submit your KYC, you have to visit the EasyPay offices locally located at 1st Floor Tirupati Mall. Kabalagala. Kampala, Uganda, or email them at info@easypay.co.ug for direct guidance and assistance.
Other benefits of using EasyPay
Your visitors are not redirected away, the payments are completed from within your checkout page.
Rich Knowledge base and good customer support with a live chat on thier website.
The EasyPay App is a harmonious "all in one" solution to electronic transactions, offering you convinience in how you may want to utilise your money, such us buying Airtime or Data for all networks, Paying for Utility bills, and several others.
No MBs(Data)?No problem! You can use easypay through USSD *270*26# and select 1) Easypay Wallet. It is the quickest way by far to join easypay and you can still access your account without data…. It is free on Airtel…but MTN charges for USSD sessions.
What needs to be added / improved in future version of the EasyPay Mobile Money plugin
Currently the EasyPay only integrates with WooCommerce, and therefore other users who need to receive mobile money payments through donation plugins, paywall/subscription plugins, etc are not supported.